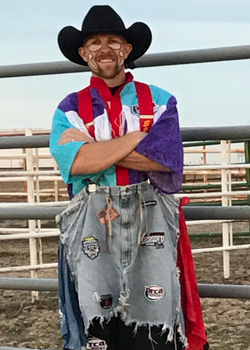 Richie Harris was born and raised in Denver, Colorado. He has been fighting bulls for 24 years. Richie is a city boy turned cowboy and becoming a Rodeo Clown/Bullfighter has been a dream of his since the age of 9 after meeting Leon Coffee at the National Western Stock Show and Rodeo. After fighting bulls for Little Britches and High School rodeos for a few years he received his PRCA card in 2000.
He has been very fortunate to have worked some of the top rodeo's in the United States, the National Western Stock Show and Rodeo in Denver, Colorado and the Fiesta Days in Spanish Fork, Utah just to name a few. He has also worked many other well-known PRCA rodeo's as well as some PBR's for the past 18 years.
The two most important things in Richie's life is God and his family, with rodeo definitely next in line. Alongside his wife Christine, they are busy raising their 4 beautiful children – Braiden (12), Mckenna (9), Kaisen (4), and Caiden (2). When the family is not busy with school and sports, they love traveling to all the rodeos together and being a part of such a great rodeo community.
Richie has been very blessed with his rodeo journey thus far and looks forward to what the future holds.