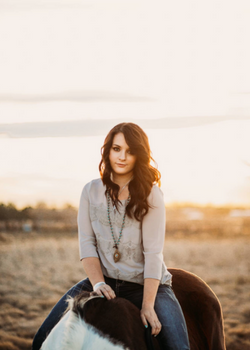 Hey all! My name is Sara Ostrand and I live in Evans, Colorado. My passion has always been horses. I grew up in a family that, thankfully, supported my horse habit and I quickly fell in love with not only riding but showing.
After high school I moved to Cheyenne, Wyoming to go to Laramie County Community College where I earned my associates in Equine Science. After finishing in Wyoming I transferred to Colorado State University in Fort Collins, Colorado, where I finished my bachelors degree in Agricultural Business.
At this point I developed a love for fitness and became a personal trainer, which is what I'm doing now: helping people become the best version of themselves through health and fitness and applying that to horseback riders. These days I ride and show my two horses, serve at my favorite cowboy church, and steadily grow my business. I'm blessed to be a part of the Greeley Hat Works Team!