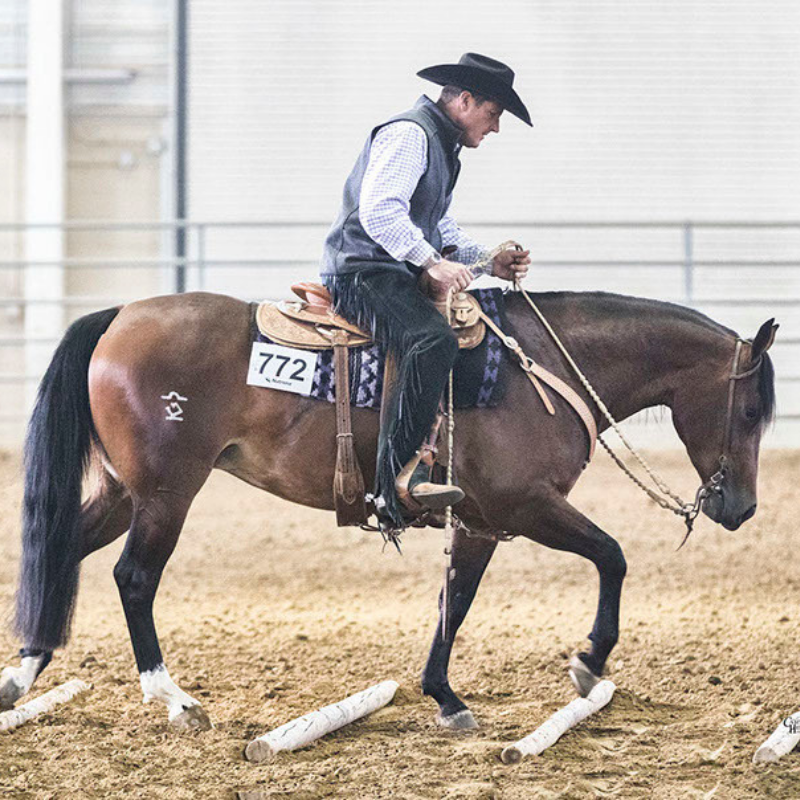 Mark Guynn
Mark was born and raised in Manitou Springs, Colorado where he led trail rides through the Garden of the Gods as a youth. He graduated from Lamar Community College with an Associates degree in Horse Management and Training, and went on to complete an internship with renowned AQHA breeder and judge, Joe Taylor, in Moab, Utah. Following his brief sojourn in Utah, Mark returned to Colorado and started Guynn Training Center, LLC now located in the beautiful foothills of Berthoud. He and his wife, Jan, were married in 1992 and have 12 year old twins, Luke and Lindsay. Lindsay is well on her way to becoming the next in the line of accomplished riders.
Mark sits on the Rocky Mountain Quarter Horse Association Board of Directors, and has been heavily involved in the youth program for many years. Mark is the AQHA committee chair for the Region 8 Committee, and serves as a liaison to the local affiliate, as well as sitting on their committee for year end awards. Mark is a past president of the Rocky Mountain Reining Horse association, and remains appointed to that Board of Directors for 2013. Mark holds his AQHA, NRHA, and NRCHA judge's cards. He is a NRHA money earner, and has consistently produced both AQHA and APHA world show qualifiers.
Mark is most proud of his youth and non-pro clients, many of whom have qualified for World Show competition themselves. In 2012 he took four youth to the AQHYA World Show in Reining, Haiden and Hunter DeJane, Shelby Diede, and Alyssa Neiberger, who finished 14th in that event. This same group qualified for the Novice World Championship in this it's inaugural year, and ended up in the ribbons in the Youth Reining, and the Geldings. In 2011 he accompanied a similar group to the AQHYA World Show, and coached Whizzy Harper in the Amateur Reining at the AQHA World Show on her mare Meradas Cash Cat, whom he also qualified in the Junior Reining.
Mark prefers to work with his horses and riders as TEAMS, arming each student with the knowledge and skill level to advance and compete on their own. Challenging them to become self sufficient, he promotes mutual synergy between horse and rider. His track record demonstrates that his approach pays off in the show pen. On the off days when Mark is not coaching, judging or training, he enjoys spending time with his family or working on his second "love" golf.
Mark appreciates being a part of the Greeley Hatworks Team!!! As a judge, exhibitor and coach alike he values the need for a well creased, professional looking lid.